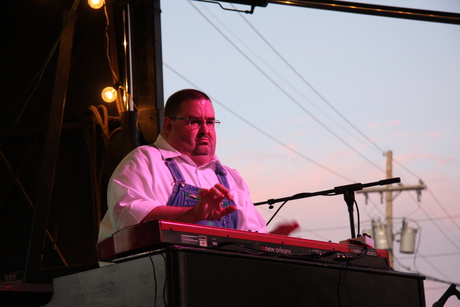 John 'Papa' Gros is the keyboardist, piano player and vocalist for New Orleans funk powerhouse Papa Grows Funk.
For more info on Papa Grows Funk, check out http://papagrowsfunk.com/
Odoms is is a New Orleans-based rapper. His debut album, "Let Me Atom," is out now.
http://odomsyeah.com
Anders Osborne is a singer-songwriter and guitarist based in New Orleans. His latest release is the album "American Patchwork."
Aubrey Edwards is a photographer based in Brooklyn. She is co-creator of "Where They At: New Orleans Hip-Hop and Bounce in Words and Pictures." For more information, check out http://wheretheyatnola.com/
George Porter Jr. is a funk legend. He is best known for being the bassist for The Meters. He is also a member of the Funky Meters, PBS,and George Porter Jr. and Runnin' Pardners. For more info on George, check out http://www.georgeporterjr.com/
Alison Fernsterstock is a writer based in New Orleans. She is co-creator of "Where They At: New Orleans Hip-Hop and Bounce in Words and Pictures." For more information, check out http://wheretheyatnola.com/
Jason Berry is an author from New Orleans. He is co-author of the book, Up From the Cradle of Jazz: New Orleans Music Since World War II. For more info on Jason Berry, please visit http://www.jasonberryauthor.com/